Complete Story

08/24/2023
2024 NFBA Membership Category and Dues Restructure
An important announcement from NFBA to our Members
NFBA is Updating their
Membership Dues Structure
NFBA will be implementing our new simplified membership categories and a new dues structure which will be applied
to your 2024 Membership Dues
NFBA Members will now fall into one of three membership categories:
Contractor Member
Associate Member
Academic/Design/Code Professional Member
In addition to the simplification of Membership types, NFBA is now able to provide payment options for membership dues in order to better meet the needs of our Members. We will continue to accept annual payments, but we will now also be offering monthly payment options for our Contractor and Associate Members. Please review the chart below to see our new categories and payment options: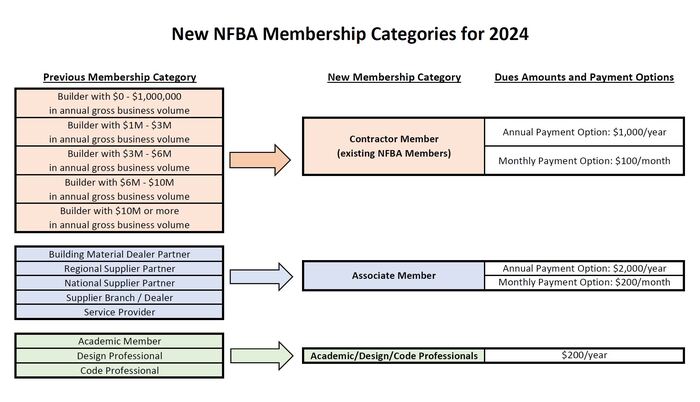 Member Category Definitions
Contractor Member: This membership type is for Builders. Their business includes crews who build post-frame structures.
Associate Member: This membership type includes any business that provides materials or services to Builder Members or those who supply Builder Members.
Academic/Design/Code Professional Member: This membership type is for Professors, Instructors, Engineers, Architects, Design Consultants, and Design Code Professionals.


Why the restructure?
Simplified Categories: The restructuring aims to streamline membership categories, making it easier for members to understand and select the appropriate level of membership that applies to them. Previously, several of our Members were not selecting the correct level for their Membership. This clarity can help members avoid confusion when choosing their membership type.
Enhanced Value: By eliminating the potential for Members to improperly identify their specific membership tier, NFBA can enhance the overall value proposition for members. This means more valuable benefits, services, and resources that directly contribute to their professional growth and success.
Adaptation to Member Needs: As the industry evolves, so do the needs of its professionals. The restructured dues system reflects NFBA's commitment to staying responsive to member needs, ensuring that the association remains relevant and supportive.
Sustainability and Growth: Restructuring dues can provide NFBA with a stable financial foundation to sustain and grow the association's offerings. This translates into a stronger and more resilient organization that can continue to support its members effectively.
Transparency: NFBA's commitment to restructuring dues demonstrates a transparent approach to managing resources and serving its members. This transparency can foster trust and confidence among members that their membership fees are being used wisely.
As always, your NFBA staff is here to help. Please reach out to NFBA Membership Director, Morgan Arwood via Email: marwood@nfba.org or Phone: 800-557-6957 with any questions or feedback that arise and to make sure you are aware of all the business-boosting benefits you get with your NFBA membership and how to access them.
Not yet a member of NFBA?
---