55th Annual NFBA Building Expo 2023
General Info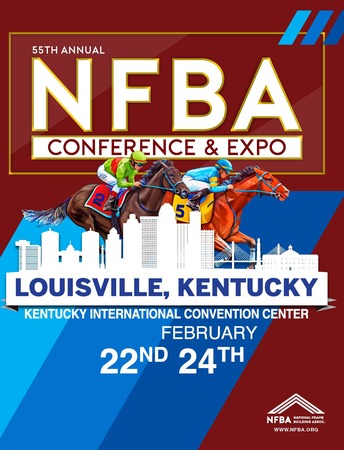 DATE: February 22-24, 2023
Kentucky International Convention Center
221 S. 4th Street
Louisville, KY
The annual NFBA Frame Building Expo is the premier event for post-frame professionals. At the Frame Building Expo, everything you need to build your post-frame business is assembled under one roof. From an expansive list of exhibitors ready to demonstrate the newest innovations to educational sessions led by deeply invested presenters and industry leaders, you can expect to make all of the connections necessary to make smarter business decisions, grow your bottom line and enhance credibility for your business.
Join us at the Kentucky International Convention Center, February 22-24, 2023, for the 2023 Frame Building Expo.
---
Questions related to exhibiting? Contact Patrick Filippelli at 630-929-7960
Some NFBA exhibitors have been receiving communications from companies soliciting the NFBA attendee list. Please note that these companies are posing as official representatives of the NFBA Frame Building Expo to sell unofficial attendee data lists. These companies are unrelenting and are known to constantly change their company and domain names, but they have no affiliation with the NFBA, and we cannot recommend purchasing a list through them. Exhibitors are advised to beware of anyone soliciting on behalf of the NFBA. Please contact us at NFBA@heiexpo.com with questions
Schedule



Registration



Exhibitors
Exhibiting at the Frame Building Expo gives your company access to more than 1,000 post-frame professionals who attend to find new products, learn best practices, and network with colleagues. Review the floor plan for available booth space, submit your application, and review the exhibitor prospectus for additional information regarding the attendees that attend NFBA. We also have a large variety of Sponsorship opportunities available to current exhibitors.
Online Exhibit Space Application
2023 NFBA Sponsorship Form PDF
NFBA 2023 Exhibitor Service Manual Show Code: NFBA23SDF
Online Ordering will be open on December 19, 2022
---
Some NFBA exhibitors have been receiving communications from companies soliciting the NFBA attendee list. Please note that these companies are posing as official representatives of the NFBA Frame Building Expo to sell unofficial attendee data lists. These companies are unrelenting and are known to constantly change their company and domain names, but they have no affiliation with the NFBA, and we cannot recommend purchasing a list through them. Exhibitors are advised to beware of anyone soliciting on behalf of the NFBA. Please contact us at NFBA@heiexpo.com with questions